OFTEN COPIED, NEVER EQUALED:
THE ORIGINAL BIRKENSTOCK FOOTBED

The original BIRKENSTOCK footbed is the heart of all our models. While today it is synonymous with exceptional comfort, the word "footbed" was first used by BIRKENSTOCK in the 1930s to describe anatomically shaped inner soles with special support elements.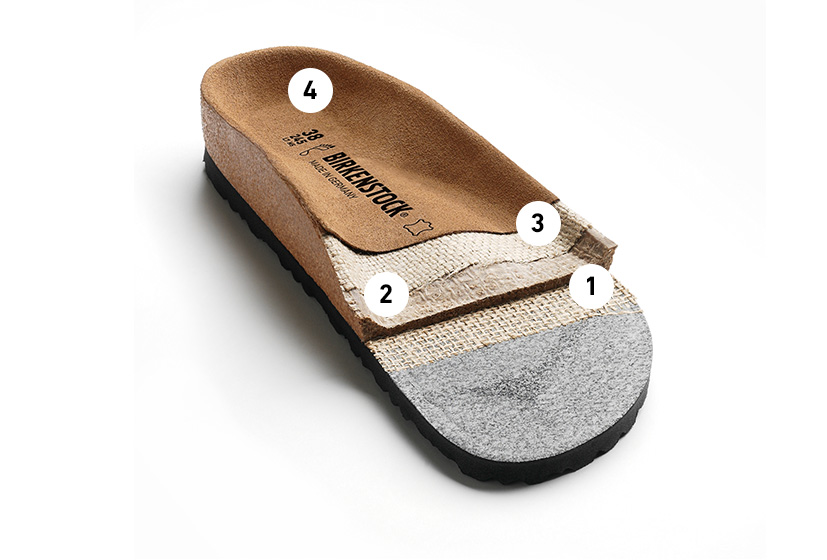 THE STRUCTURE
01 | FIRST LAYER OF JUTE
The first layer of jute forms the foundation of our footbed. It stabilises the natural cork and latex core.

02 | CORK AND LATEX FOOTBED
The cork and latex footbed is the heart of all BIRKENSTOCK shoes. The shock-absorbing and highly flexible cork and latex core supports and relieves pressure on the feet. The natural materials insulate against the heat and cold and create a good foot climate.

03 | SECOND LAYER OF JUTE
The second layer of jute is placed around the sides of the footbed. This increases the flexibility of the footbed and makes it significantly more durable. This layer of thick, absorbent jute helps to regulate moisture.

04 | SUEDE LINING
The suede lining absorbs moisture. This natural property of the high-quality top layer helps to ensure a pleasant foot climate.